9 Feb 2014

SAD NEWS
Lodi News Sentinel's Obituary:
Barbara Lee Boepple Mettler (1942-1014)
Barbara Lee Boepple Mettler passsed into eternal life on Thursday, January 30, 2014.
Born in Lodi, Caliornia, to Elmer and Ruth Boeple on July 8, 1942, Barbara is survived by one sister, Patricia, (Frank) Dodge and her mother, Ruth of Quartzside, Arizona.
Barbara was raised and attended schools in Lodi, graduating from Lod High in 1960. Barbara received RN traini ng at San Joaquin County General ospital and was trained at Mercy Hospital in Sacramento as a registered x-ray technologist.
...Barbara was married to Dr. Clifford Metter on July 30, 1962. Dr. Clifforf Metter survives, living in Eugene, Oregon. Her children are Benjamin (Karen) Mettler of Stockton, California, Andrew (Gena) Metler of Eugene, Oregon, and Julie Mettler (Liza Cauble) of Anchorage, Alaska. Her grandchildren are Zachery Mettler (Stockton) and Alexandra Mettler (Eugene, Oregon).
Barbara was well known for spearhdeading the Early Childhood Education rogram in Lodi.
In 1978, Barbara and Dr. Mettler moved to Alaska and lived there for fifteen years. Her love for books was lived out as an elementary school .brarian and instructional aide. Our friend, Barbaa, was an accomplished, creative and talented cook as well as a fastastic hostress. She operated a cathering and wedding cake business following her return to Lodi from Alaska.
Barabara, also known as Bobbie, said, "My most pleasing work experience was being a mother and homemaker for three gifted children and one sweet husband." Barbara was a member of Sacramento Regional High IQ Society, and the United Congregation Christian Church of Lodi. A memorial service will be held Sunday, Februaru 9. 12:00 noon at the curch, 701 South Hutchins, followed by recetion. Memorial domations may be made in Barbar's name to the Lodi Public Library foundation, 201 W. Locust Street, Lodi, California.
-0- -0- -0-
Judy's Notes:
The photo is our 7th grade class. Barbara is #2, Woods School, Woodbridge, CA. The rest of the information can be found at:
http://www.remmick.org/Memoirs.Class60/Page7.html
I've known Barbara since grammar school, through High School, and, again we met again at our High School Reunions then our Ladies Luncheons. She was always sweet, kind and had a lovely smile.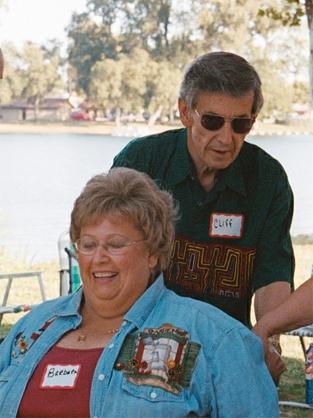 Barbara and Cliff having a good time.
Photo by Clyde Ehrhardt
High School Reunion Picnic, Lodi Lake, 2005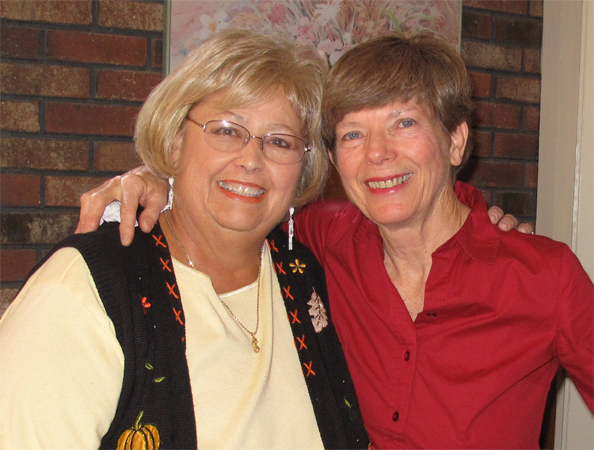 Barbara Boepple and Marsha Sanger,
30 Oct 2009
Ladies Halloween Luncheon
Class 1960
Found at:
http://www.remmick.org/LodiHigh/Page197.html
If ther is anything you'd like to add or correct, contact me at:
"remmick@aol.com